DELIVERY & RETURNS
Our courier of choice is DPD. (Click here to view DPD's sustainability pledges.)
We offer free delivery on all orders over £50. Orders under this value are charged at £12.50. There is no minimum order value.
All orders are despatched on Tuesdays and Thursdays (the nearest one to when an order was placed), and are delivered the next day. Order cut off times are midnight the previous day, i.e. if you wanted an order to arrive on Wednesday, you'd have needed to have ordered by midnight on Monday.
All Suppers are delivered in insulated boxes, with two WoolCool liners and four icepacks. This packaging arrangement is designed to keep them frozen for at least 24 hours. We'd love this packaging back, but at present this isn't possible due to the costs we'll incur, however, this is of course something we're working towards. (Click here to view WoolCool's sustainability pledges.)
The exact delivery time of your Suppers cannot be specified, however, all deliveries are made between 9am and 6pm.
You'll receive notifications from DPD by text and/or email when your order is out for delivery, so on check out, please make sure you leave a valid phone number and email address.
As our Suppers are perishable, we won't be able to redeliver on the following day, so please make sure you tell us where the driver can leave your parcel, if there's no one home. Unfortunately, if your order can't be delivered on the set day, it'll be destroyed at their depot (and to make matters even worse, we have to pay cost!). 
Unfortunately, at present, we are unable to deliver to the Scottish Highlands, anywhere offshore in the United Kingdom, Channel Islands or Northern Ireland. 
SHOULD THINGS GO WRONG...
Sadly, we've learnt the hard way that delivering perishable food isn't exactly the easiest task.
Due to our Suppers being perishable, we cannot accept returns. However, rest assured, we will always go over and above to make sure at the end of the day, you're satisfied. Should you have any questions or concerns before making an order, please do get in touch.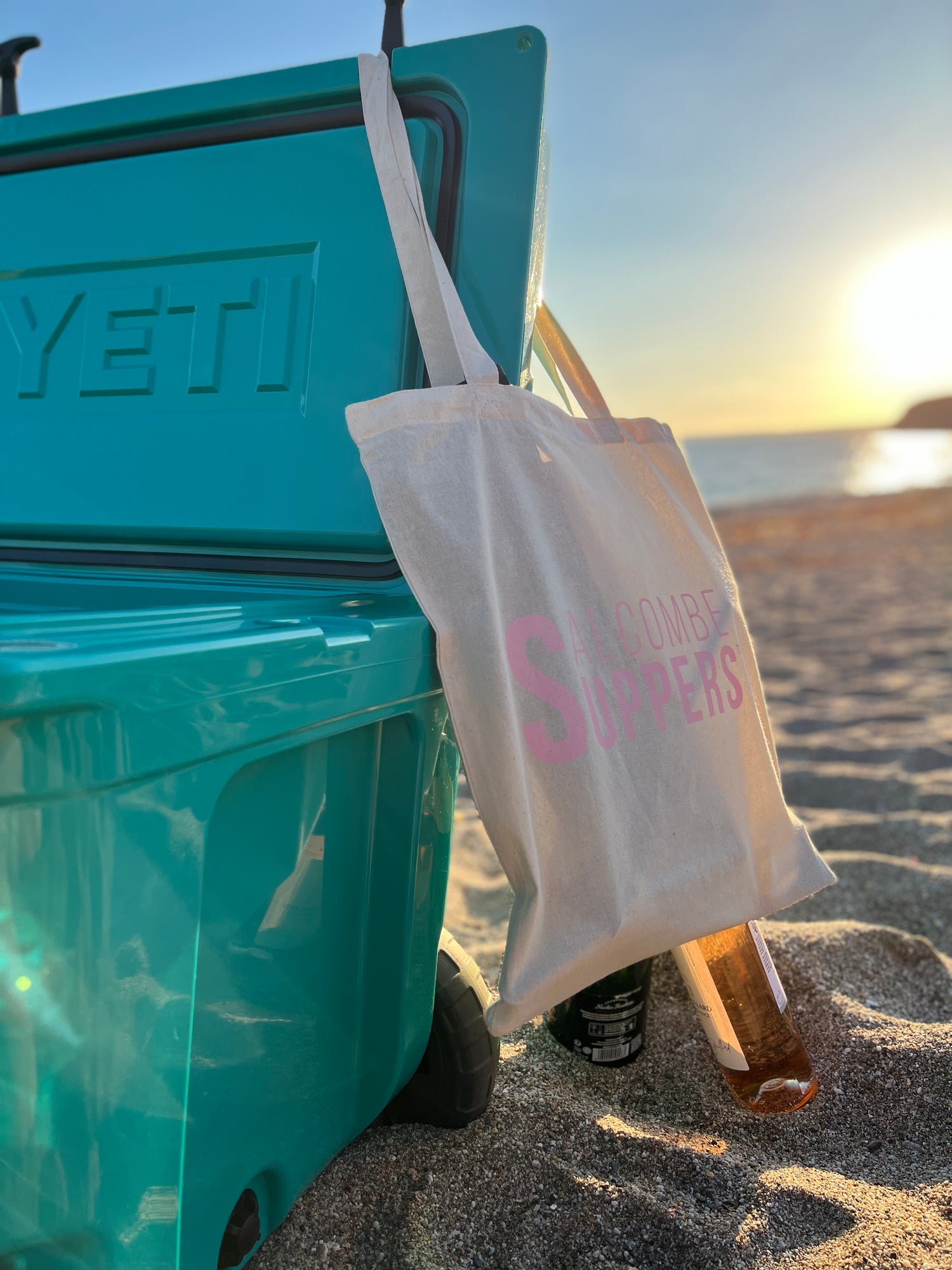 YOUR BAG FOR BEACH LIFE AWAITS...
Good things come to those that make first orders. Here's ours, modelled on a beautiful Thurlestone evening (feat. one or two light refreshments).
Included in all first orders.