Back in 2021, apart from making delicious tasting Suppers, there wasn't really a long-term purpose to Salcombe Suppers… Until we dug a bit further into what we were doing.
Before Crab Shed Salcombe, our family's previous seafood restaurant was the award-winning Pierhouse, in Port Appin, on the West Coast of Scotland. Like Crab Shed Salcombe, most of the seafood served was from the beautiful water's that overlooked the restaurant. As far as suppliers go, it's always been quite simple for us – use as much of the finest, fresh, local produce that you can. Through doing further research into seafood and supermarkets (when daydreaming about seeing our Suppers lined up in Waitrose), this is when we realised how naive we were to the larger workings of the industry. Simply put, our way of working is a bit of a fairy tale.
Here's how it often goes…
1.

Large trawlers go out at sea for at least 10 days, catching what they can.

2.

The catch is then frozen at source.

3.

Once landed, there is a long supply chain, from shore to shop floor, involving wholesalers and distributors. 

4.

This wouldn't be an issue if the catch remained frozen, however, supermarkets want it chilled.

If you read the small print on any pack of supermarket seafood, it'll say 'previously frozen'. Be careful, chilled doesn't mean 'fresh'.

5.

Due to the long supply chain, lots of it doesn't make it, with it 'going off' before the supermarkets are able to sell it.

Globally, up to 27%* of seafood that lands on the shore, goes in the bin. *

6.

The seafood that is sellable, is by this point not 'fresh', and can often spend days on the shelf before it's then sold to you, the 'valued' customer.

After that, any seafood that's got a 'reduced' sticker on, is then the last ditch attempt to sell an almost inedible product, before it's binned.
SO, SURELY THERE'S A BETTER WAY TO BUY SEAFOOD? HERE'S OUR SOLUTION...
1.

Using day-boats, we are able to get the freshest catch, before it's frozen. (Day-boats quite literally spend just the day at sea.)

2.

From then, it's sent to our kitchen, and within 24 hours we prepare, make, and freeze each Supper, locking in the freshness.

3.

During our preparation process, we're as resourceful as we can be with the catch we've received. We want to make sure anything that's been removed from our waters, has been done so for good reason. For example, with our shellfish bisque and lobster stock (that go into the mac + cheeses), all the excess shells from the lobsters are blended up, to help form it (they add amazing flavour). We also use all excess smoked haddock and trout skin (fish from the fish pies) in the bisque and stock, which would otherwise go into the bin.

4.

We distribute to you directly, and you get a catch as fresh as you'll get anywhere, when cooking seafood from home.

5.

You then cook the meal from frozen, unlocking all the freshness.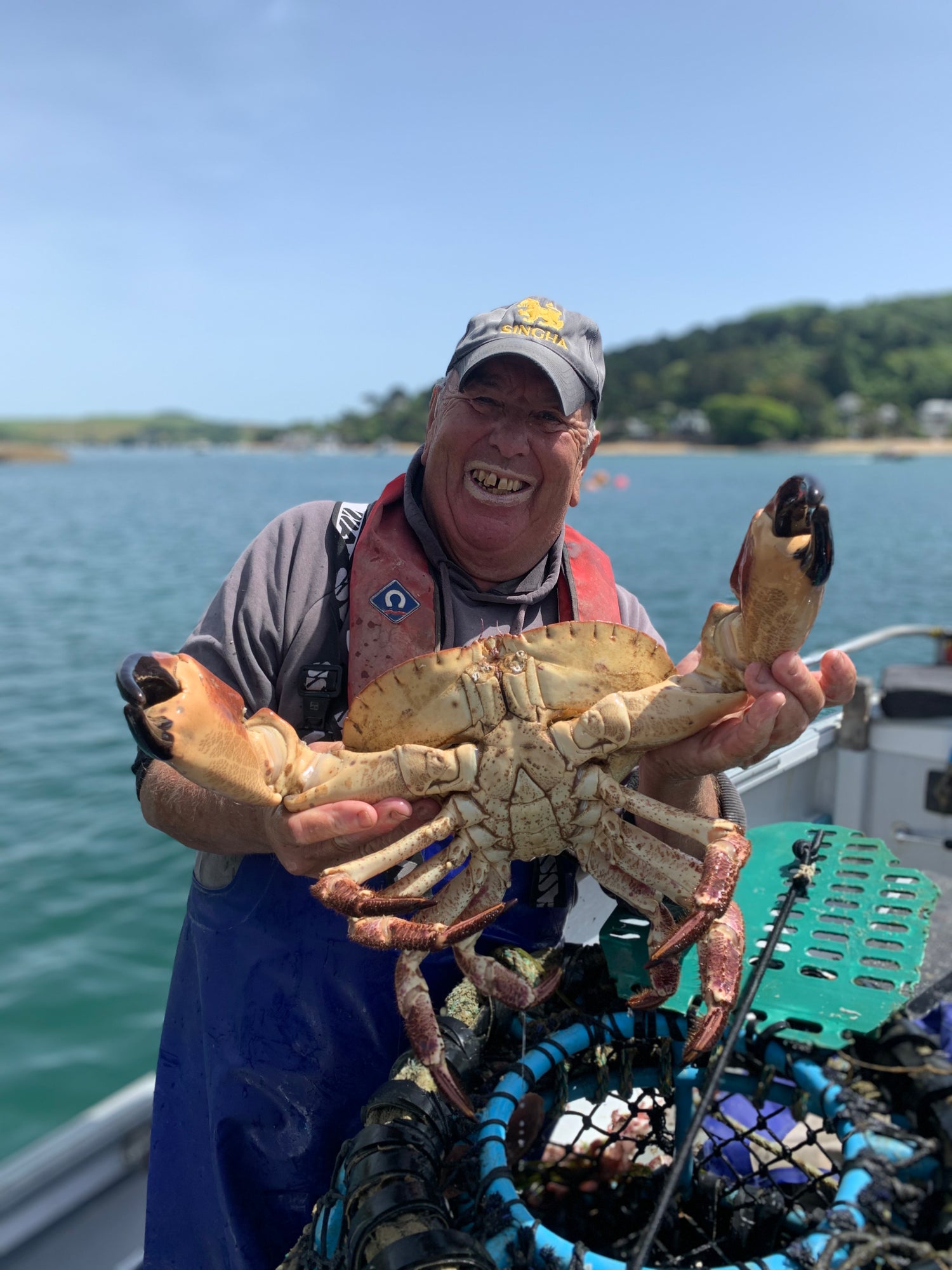 MEET FISHERMAN NEIL.
Here he is with his biggest crab of 2022. A few hours later, this was being served up at Crab Shed Salcombe. It doesn't get any fresher than that.
CHILLED DOESN'T MEAN 'FRESH'.
Chilled doesn't mean 'fresh' – when food businesses and retailers say 'fresh, not frozen', it's simply a false statement. A product can be fresh, AND frozen. The difference is whether it's CHILLED, or FROZEN. If you have 2 mins, watch this video from nutritionist, Dale Pinnock, and relate his example of the humble bag of peas, to seafood.
Like the harvest of peas, our frozen Suppers are frozen when the seafood's at its freshest. Therefore, when you come to cook our Suppers, as they cook, you're unlocking all the freshness. Just like you do with peas. You'll only get fresher than our approach when fisherman Neil walks into Crab Shed Salcombe with a pile of lobsters, caught from that very morning.